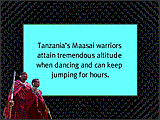 Click thumbnails to enlarge

Discovery Networks asked TSP to rescue their sales presentation from the depths of PowerPoint Hell. We had been using Director for several years for new business and creative presentations - that's actually one of the reasons Discovery hired us in the first place - we didn't use slides or an overhead projector.

So with the help of Director and lots of RTF files, we created a 450+ screen monster! We equipped the Discovery Networks sales team with souped-up laptops, humongous speakers and a bright LCD projectors. The rest is history...

A whiz-bang intro wakes everyone up, flashing many of Discovery's 1500 stock images. A television metaphor reinforces what Discovery Networks represents - quality programming. From the main menu - four TV screens containing each signal's logo - the presentation branches to each signal - Discovery Channel, Discovery Kids, Animal Planet and People + Arts. The presentation is completely interactive, allowing the presenter to move through screens and screens of research, marketing statistics, special incentive programs and video clips of Discovery's special events - the annual UpFront Party and Adventure Expedition.

My favorite part of the presentation - THE FACTOIDS. The corners of the screen contain buttons that allow the presenter to play a short, animated "factoids" - glorious tidbits related to Discovery Networks programming. Discovery Channel reveals the history of the hot air balloon, who conquered Mt. Everest without oxygen and the etymology of jet lag. Animal Planet informs how many times a butterfly beats it wings in a minute and secrets about fish and leopards. People + Arts entertains with dancing Massai Warriors, Taiko drummers and our version of an Easter Island Barbershop Quartet. Discovery Kids - which has such a fun identity - has floating kid-heads and weird sounds. Who could glaze* during this presentation?

If you're nice, email me and I'll send you my portfolio on CD which contains the full presentation. Or better yet, give Discovery Networks a call - they love to show it off!

Click on the thumbnails to the left to view screenshots of the project, including a shocked Factoid.

*Had to throw this in - Bruce coined this for Wired's Jargon Watch. It even made it into the book. Go Bruce!