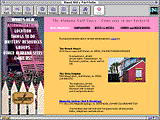 Click thumbnails to enlarge

The Alabama/Gulf Coast Convention and Visitors Bureau (AGCCVB) asked us to redesign their web site. Their previous site had only been text and some of those pretty, animated horizontal rules (yeah, you know the ones).

The AGCCVB brand identity, created by TSP, is based around the white picket fence. The site is consistent with this look, and actually takes it a step further. Used as a link to the home page, the fence appears in the left frame on top of the background image. This allowed us to use many images from the client's stock library in the background and highlight the variety of activities in the Gulf Coast while maintaining the fence graphic.

The site has a simple interface which allows users to move through the different sections easily.

Click on the thumbnails to the left to view screenshots, or view the site at http://www.gulfshores.com/.