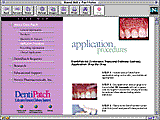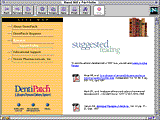 Click thumbnails to enlarge

DentiPatch™ is a transoral lidocaine delivery system created by Noven Pharmaceuticals, Inc. What that really means is that your dental hygienist can stick this little Band-Aid-like patch on your gum to numb it before an injection. I call it novocain for the novocain, but then again I don't have any cavities...

The DentiPatch™ web site was launched about 2 weeks after TSP launched the DentiPatch™ introductory campaign consisting of trade print ads and direct mail. The biggest challenge in print advertising was backing up any claims we made with research and the "Prescribing Information" (or PI) - that long, legal-looking page of 7-point text that accompanies ads for Rogaine and other pharmaceutical products.

The web gave us the ability to say everything we wanted - with all the proof the FDA requires and then some. The site contains a suggested reading section, several articles are in PDF format appearing just as they did in publication. A digital version of the slide lecture kit - used by dental professionals for lectures - allows users to download full-screen, presentation-ready graphics. And the best part - as far as the client was concerned - was that every word of the PI could be viewed in something larger than 7-point with full color graphs and charts.

Instead of just shovelware, we tried our best to make the most of the web:
A convention schedule is updated regularly by the client

Users can download portions of the slide lecture kit and intraoral photos

Article reprints can be viewed in PDF format

In the future the site will include online ordering, but the legalities of ordering prescription drugs over the net have to get ironed out first

Click on the thumbnails to the left to view screenshots, or view the site at http://www.dentipatch.com/.