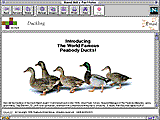 Click thumbnails to enlarge

Just as we were starting The Peabody Orlando CD-ROM project, The Peabody asked us to build their web site. We carried the concepts we created for the CD-ROM through to the web site.

The CD-ROM interface was modified to work on the web. Buttons and navigation were placed at the top in a frame, with body content in the middle and a footer in a frame at the bottom of the window.

The meeting section contains floor plans with an imagemap that directs users to the specifications for that space. There are pictures of each restaurant, shots of the amenities and basic information about the suites.

Because the CD-ROM was still in early development, there wasn't much content - basically just a few pictures for each section and some basic copy descriptions. But we put it all together, and met their deadline for a trade show.

Click on the thumbnails to the left to view screenshots, or view the site at http://www.peabody-orlando.com/.