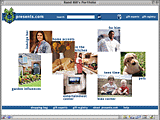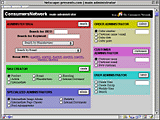 Click thumbnails to enlarge

My first job in Los Angeles was with idealab!, the creative capital start-up factory for Internet businesses, as part of the original Consumers Network team. Our mission was to create "category killer e-commerce sites" leveraging the backend systems developed by Rob Ferber, founding CTO of eToys.

Consumers' first site and proof-of-concept was Pet.net, an online pet supply store. Pet.net spun off as its own entity in the Fall of 1998 and quickly merged with PetSmart.com. The look of the site was quickly changed to incorporate the PetSmart identity.

Presents.com was our second undertaking. Launched late Fall 1998 to take advantage of the holiday season, it was created to demonstrate how the e-commerce system could handle heavy traffic loads.

Following the success of Presents.com and Pet.net, Consumers Network shifted its focus from creating e-commerce sites to developing an open-source e-commerce engine. With this change came the new company name, OpenSales.

My final project with OpenSales was to create the interface for customers to access all the tools provided by the software.