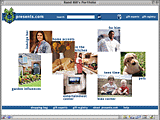 Click thumbnail to enlarge

Launched late Fall 1998, Presents.com was designed to take advantage of the holiday season and demonstrate how the e-commerce system could handle heavy traffic loads. The engine performed perfectly! Although Presents.com wasn't the most lucrative idealab! venture, it was successful in establishing OpenSales software as a solid, robust e-commerce package.

With the success of Presents.com, the Consumers Network open-sourced the code used to build the system and changed the name of the company to OpenSales. The Presents.com site became a fully functioning demo for potential customers to work with the system.