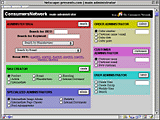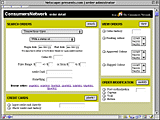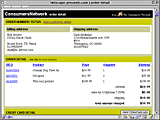 Click thumbnails to enlarge

Designing the interface for the administration tools of Consumers' e-commerce engine proved to be my most challenging project, carrying the most requirements and restrictions:
The interface could contain no graphics, only HTML, for optimum use on a laptop over a slow connection.

The Admin gave users access to a huge quantity of information about orders, the status of the site and the publishing engine. All of this had to be organized and easy to use.

I left OpenSales before the interface was implemented, but it was a great project and I'm proud of the way it turned out.

Click on the thumbnails to the left to view screenshots of the interface, or find out more about OpenSales.